Used Appliances in Neenah WI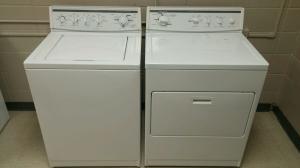 Ask anyone who has ever gone shopping for new appliances, and they'll all tell you roughly the same thing: They're expensive. Like, "throw-off-your-budget-for-months" expensive. Similarly, when one of your necessary appliances goes on the fritz, we all go through the same sort of step-by-step panic. "We need a new fridge? But a fridge is so expensive? How are we going to afford a new fridge?"
Luckily, when you need used appliances in Neenah, WI, Kelbachs Appliance Service is here to provide like-new appliances such as washers, dryers, refrigerators and much more, and for a fraction of what you might pay elsewhere. Using our years of repair experience, the best parts and practices available, and a keen understanding of our various communities in the Fox Valley, we at Kelbachs are able to answer the call when there is a need for used appliances in Neenah, WI. There is no need to spend more than is necessary, or to throw your family's budget into a tailspin. At Kelbachs, our variety of high-quality, fully-refurbished, brand-name appliances helps you to keep costs down while putting the stress of a malfunctioning appliance to bed.
So what are you looking for? Whether it's an oven, range, dishwasher or any other appliance, you can be certain that, when you trust your business to us at Kelbachs Appliance Service in Neenah, you'll be getting brand-name products that you can depend on, year after year. We understand the realities that accompany the purchase of appliances, and we do our part to put your fears to rest. But don't just take our word for it; purchase a used appliance from Kelbachs Appliance Service in Neenah, and let your new-to-you appliance do the talking.
Send us an email, give us a call at (920) 379-1539, or stop by at 990 Apple Blossom Dr, Neenah, WI 54956.